Maestro 4M
<![if !vml]>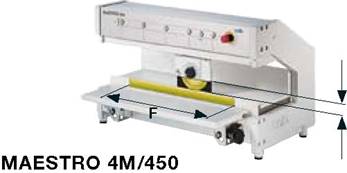 <![endif]>
Component height at the edge on the PCB max. 40 mm
MAESTRO 4M separates both small and large PCBs fast and economically.

To optimize operation, the separation length can be programmed with the control keys. The PCB is placed with its pre-scored groove onto the linear blade. When the foot switch is pressed, the blade carrier with the circular blade moves across the PCB, separating it into individual units.

The clearance between the upper guide and the linear blade is adjustable to ensure that the PCB is only separated in the pre-scored groove. The pre-scored grooves can be interrupted by any number of cutouts. If components project above the groove,the linear blade needs to be omitted.
<![if !vml]>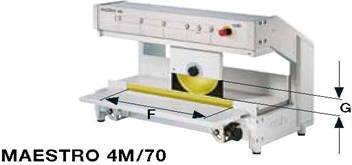 <![endif]>
Component height at the edge on the PCB max. 70 mm
<![if !vml]>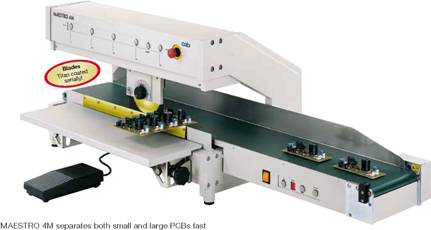 <![endif]>
Convey or belt for higher performance (Upon request)